WELCOME TO RVTECHSTOP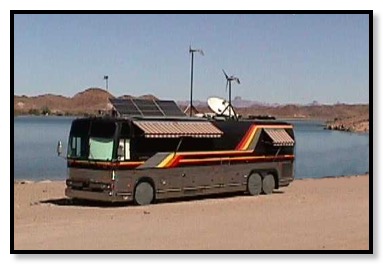 From 1989 through April of 1999, Ed Gurdjian and Carol Maxwell wrote technical articles for Family Motor Coaching Magazine and presented or moderated numerous seminars for Family Motor Coach Association National Conventions. We have over 500,000 miles of motorhoming experience. Much of the information presented on this site is related to our personal experience-others may reach different conclusions based on their experiences.
In 1983 when we bought our first motorhome, a 29 foot Heritage, our RV knowledge base was zero. Both of us were health care professionals where knowledge and technical skills were crucial. This attitude of needing to know "How and Why" flowed to our new interest. We have endeavored to learn as much as we can and share this information in our published articles.
We have included other pages that may be of interest: one is devoted to the alternative energy systems that we use in Arizona and Pennsylvania and one devoted to Ed's 1999 Electric Ranger.